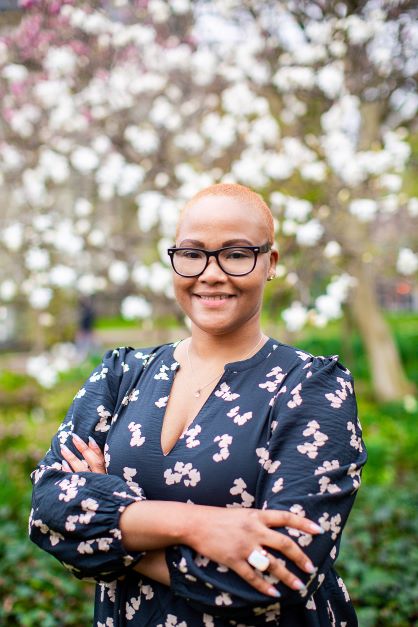 Natasha Dyer is an Executive Program in Social Impact Alum and a current Teaching Fellow. Learn more about her experience in the Executive program. Also, sign up for our Social Impact Info session on September 6, 4-5 pm.
Natasha discusses her growth since graduating, highlights from the program, and advice for future applicants.
" I completed UPENN's Executive program in Social Impact Strategies in 2020, when the program was fully virtual due to Covid, and applied to become a Teaching Fellow in the following year. The SIS program provided me with the tools and frameworks necessary to design and evaluate meaningful social impact strategies that honor the lived experiences of community members while positioning organizations as community participants. I also gained an international network of changemakers committed to social change, from which I draw support and exchange ideas.
My favorite part of being a Teaching Fellow is helping program fellows understand how best to apply the tools and frameworks provided to realize their vision of a better world.
Since graduating from the program, I've experienced a major career milestone. After serving 10 years in Newark, NJ's public education sector, I was appointed Executive Director of Greater Newark Conservancy. At the Conservancy, we foster collaboration in our community at the intersection of environmental, food, and racial justice to promote the health and well-being of Newark residents. In fact, I used some of the frameworks provided in the SIS program to inform a community engagement framework that I designed for the Conservancy as part of the interview process.
One lesson that continues to resonate with me is the practice of using human-centered design, which includes the human perspective in every aspect of the problem-solving process. When developing strategies for social impact, this process is critical to keeping the community and/or beneficiary populations at the core of how and why we design and implement solutions to create positive change and lasting change.
My advice for future applicants is to enjoy the process. When entering the program, it's important to understand that everything you create during the program and beyond will be iterative. When approaching assignments, focus on making sure you understand how to apply the host of tools and frameworks introduced, and less on perfection or "getting it right." There will always be room and need for continuous improvement. "
Applications for CSIS Executive Programs are Open! Apply by the early deadlines for a tuition discount. See below and program pages and viewbooks for details.  
ACS: Arts & Culture Strategy | Dec 2022 Cohort
Info Session | 1:1 Call | Apply by Sept 18 / Oct 16, 2022