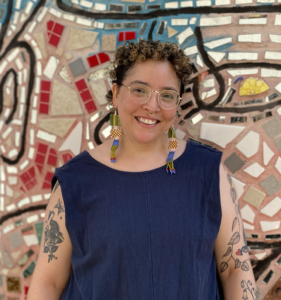 River Ingham is a soon-to-be graduate of our Executive Program in Digital Media for Social Impact. Learn more about their professional background and their experience in the program. Also, sign up for our Executive Program in Digital Media for Social Impact Info session on August 24th.
River speaks about their social impact digital marketing consulting business, highlights from the program, and advice for future applicants.
"WordSpark Digital Consulting is a full-service social impact digital marketing and strategic coaching consultancy headquartered on the East Coast. I founded WordSpark because I enjoy the creative thinking and freedom that entrepreneurship brings. I am a big-picture thinker, transformational leader, and strategic coach with an unending passion for helping innovative social impact organizations meet their digital marketing goals.
Knowing that this program is based on the principles of transformational learning helped me Center on the concept of progress over perfection. I appreciated the constructive and strengths-based feedback I received each step of the way from the Teaching Team and fellow cohort members.
My advice to future applicants is to remember to reach out to other cohort members for support when you need a word of advice or inspiration. Although each student comes into this experience with different goals, you're sharing months of learning together. Connecting with each other throughout different phases of the program helps to keep you motivated and engaged. I never felt alone in my program journey!"
Applications for CSIS Executive Programs are Open! Apply by the early deadlines for a tuition discount. See below and program pages and viewbooks for details.  
ACS: Arts & Culture Strategy | Dec 2022 Cohort

 
Info Session | 1:1 Call | Apply by Sept 18 / Oct 16, 2022