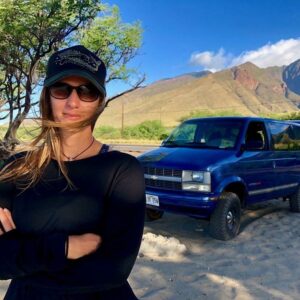 Leah Warshawski is a soon-to-be graduate of our Executive Program in Digital Media for Social Impact. Learn more about her professional background and her experience in the program. Sign up for our Executive Program in Digital Media for Social Impact Info session on August 24th.
Leah speaks about her professional background, highlights from the March Convening, and advice for future applicants.
"I work as an impact producer for film and television projects around the globe dealing with themes such as Holocaust Education, the gig economy, the Personhood movement, women's rights, and environmental justice. I'm passionate about the work I do now more than ever because I've seen first-hand how films and content can transform people's lives and make the world a more compassionate and kind place to live.
Getting to know everyone on a personal level during the convening – even though I was a "Zoomie" I felt a big sense of camaraderie with everyone else in the program."
Leah's advice to future applicants "Do it! The lessons learned in this program will be useful in all aspects of your impact work and well worth the time and effort."
Applications for CSIS Executive Programs are Open! Apply by the early deadlines for a tuition discount. See below and program pages and viewbooks for details.  
ACS: Arts & Culture Strategy | Dec 2022 Cohort

 
Info Session | 1:1 Call | Apply by Sept 18 / Oct 16, 2022